News
NOTICE:  Our 2018 AGM and Annual Conference will be held on 3rd November 2018 in the University of southampton. We will celebrate our 60th anniversary in 2018 so the conference will be rather special. The conference title has not yet been fixed but planned topics for the various speakers will cover Early Humans and the Mesolithic and a number of important and well known speakers have already been signed up. At our 2017 AGM, held in Winchester, our chair, Ginny Pringle, announced that this would be her last conference as chair as she would be standing down in January 2018 after three years in post. The new chair, appointed at a Trustee meeting in January is Roland Smith who is currently an Archaeology Officer with Berkshire Archaeology. Roland is no stranger to CBA Wessex as he is our curent Berkshire representative and was, a few years ago, our Secretary.
A copy of the Agenda 2017 and the Minutes from 2016 can be downloaded here.
We believe that good communication with our membership is essential.  In addition to our twice a year printed newsletter we regularly send our eNews to all members who have signed up to receive these monthly news flashes by email.
Emailed to members every month, concerning archaeology throughout Wessex (and often beyond), CBA Wessex eNEWS is the way to stay informed with friendly reminders of forthcoming events such as study days, walks, outings and lectures, as well as receiving those useful snippets of news you might otherwise miss.
Enjoy reading previous editions of CBA Wessex eNEWS here – just click on the links below…
If you have an item to contribute to CBA Wessex eNEWS we would love to hear from you.  You can reach us by contacting our eNEWS team !
For up to the minute news on archaeology happening around the region follow CBA Wessex on Facebook, – simply send us a request and we'll ensure you become a friend of CBA Wessex Facebook Group.
——————————————————————————————————————————–
CBA WESSEX DIARY
16th October 2016:  Our final walk for 2016.  Thanks to Dave Allen (Hampshire Cultural Trust and our Hants Rep) and Chris Elmer (our Secretary) for leading a great walk around the Silchester Roman town walls and amphitheatre.
Excellent morning had by all; despite the threat of rain, the clouds cleared away and pleasant sunshine broke through to warm us all.  Thanks to all our members who travelled far and wide to be here.
Dave Allen and CBA Wessex members pause for reflection at the north gate.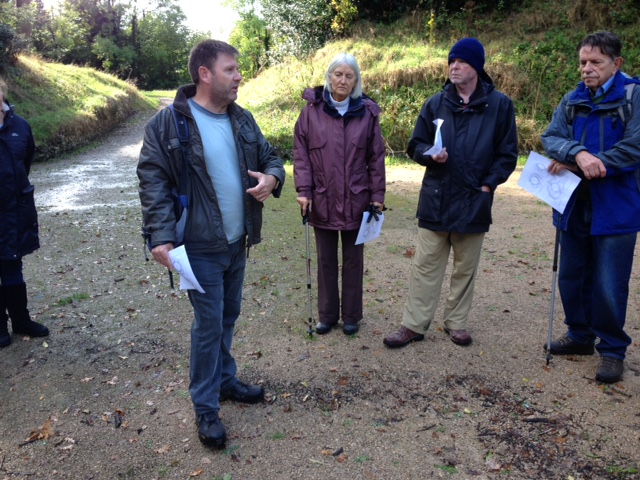 Chris Elmer talks to CBA Wessex members about the amphitheatre at Silchester.
_________________________________________________________________________
Beatrice de Cardi
The world of archaeology will be saddened to hear of the death, on 5th July 2017, of Beatrice de Cardi aged 102.
From 1949 to 1973 Beatrice de Cardi was secretary and administrative head of the Council for British Archaeology and was responsible for inspiring a generation of archaeologists by publishing an annual calendar of excavations which volunteers could join. In 1976 the CBA established the series of annual "de Cardi" lectures to honour her contribution to British archaeology.
Described once by Michael Wood as "part Miss Marple and part Indianna Jones", Miss de Cardi spent much of her career as a field archaeologist working in some of the world's most inhospitable and dangerous places where she coped with extreme heat, bandits and wild animals with her normal unflappable demeanour. She carried out pioneering fieldwork in Baluchistan, Afghanistan and Iran and later in life she was a frequent visitor to the Gulf states including Ras Al Khaimah, UAE, Oman, Qatar becoming by the end of her career, the world's oldest working archaeologist.
Beatrice's 100th birthday was celebrated with a special event at the Society of Antiquaries where she was presented with the Society's gold medal while the CBA headquarters in York was renamed Beatrice de Cardi House in her honour.
_____________________________________________________________________
7th November 2015:  Our new grant funding scheme is launched – financial assistance may be available for your projects in the Wessex region (terms and conditions apply).
See our Grants page for details:
http://cba-wessex.org.uk/grants/
_______________________________________________________________________
4th October 2015:  Thanks to Maddy Andrews for leading an excellent walk around the Rockbourne landscape in west Hampshire:
Excellent views of the prehistoric and Roman landscape. Good time had by all. Watch this space for more walks next spring…
_______________________________________________________________________
21st September 2015:  2015 AGM Agenda and revisions to our constitution:  
CBA Wessex proposes minor revisions to our constitution and this item will be on the agenda of our AGM to be held on Saturday, 7th November.  You can view the 2015 AGM agenda here and revisions here:  CBA WessexConstitution Aug. 2015 revisions.
_______________________________________________________________________
11th July 2015:  CBA Wessex visits excavations at Marden and Wilsford henges:  Amazing turnout today of around 50 visitors from CBA Wessex at the University of Reading Field School excavations at Marden and Wilsford Henges. Huge thank you to Jim Leary and the team for showing us around
_______________________________________________________________________
5th, 6th, 7th June 2015:  An excellent CBA Wessex weekend spent at Salisbury, Stonehenge and Avebury World Heritage Site and the Salisbury Plain Training Area:  Thanks to everyone who made the weekend possible and especially to all our guests.  It was good to see our friends from other CBA Groups who headed south to join us… and the sun shone all weekend!  More pics on Facebook.
_________________________________________________
10 May 2015:  Thanks to Katy Whitaker and Dan Miles for leading another excellent CBA Wessex walk:  Knap Hill – Adam's Grave – Milk Hill – Wansdyke – Eald Burgh – Knap Hill.  As Katy says 'everyone seemed to enjoy themselves and the grey clouds only threatened, we didn't get wet!'.
_______________________________________________________________________
5 May 2015:  Seeking Volunteers
The Coastal and Intertidal Zone Archaeology Network (CITiZAN) are now actively recruiting volunteers. The teams hope to train volunteers to record submerged forests, hulks, military defences and many more sites under threat.
The CITiZAN team based in Portsmouth has been assigned the coastline from Chichester to the Severn Estuary.  If you wish to volunteer in the Wessex area then please contact Alex Bellisario at ABellisario@mola.org.uk – she will be very pleased to hear from you!
_______________________________________________________________________
26 April 2015:  Thank you to Peter Stanier for guiding us around the archaeology of Portland's quarries – another successful walk chalked up by CBA Wessex!