News
Conference Programme:
Our 2019 AGM and Annual Conference 'Sunrise over the Stones: recent research into Neolithic and Chalcolithic Wessex'  will be held on Saturday 9th November 2019 at Bournemouth University.  See our events page for further details.
Our 2018 AGM and Annual Conference 'Dawn: New Light on our Earliest Ancestors to the Hunter-Gatherers of the Mesolithic' was held on 3rd November 2018 at the Highfield Campus in Southampton and co-hosted by the University of Southampton and in collaboration with The Prehistoric Society and Wessex Archaeology.  Celebrating our 60th anniversary, the conference was an outstanding success with an audience in the region of 300, entertained by a plethora of high profile speakers including keynote speaker Prof. Alice Roberts.
Walks Programme:
CBA Wessex walks for 2019
A new programme of interesting walks has been arranged for 2019. These include an exploration of Newbury's Civil War sites; prehistoric sites on Cranborne Chase and Morgans Hill near Devizes, featuring old roads and an early wireless station. Other walks in the New Forest and on the Isle of Wight have been arranged.  See our events page for further details.
A short summary of CBA Wessex walks in 2018 
Five walks were offered in 2018, all very varied in subject and location. Unplanned weather conditions varied too, from damp to very hot or freezing, but did not deter from the enjoyment of all who took part. In April our group learned first hand about the operation and archaeology of the 'floated water meadows' at Harnham, Salisbury, under the expert guidance of Dr Hadrian Cook of the Harnham Water Meadows Trust. Carriers, drains, hatches, spillways and the work of the 'drowner' are no longer a mystery!
The sudden snowy arrival of the Beast from the East in March caused the re-arrangement of Katy Whitaker's West Woods walk near Marlborough to early May. We were then able to delight in massed bluebells under the trees while exploring surviving lengths of the Wansdyke, a large but concealed long barrow, and the curious sarsen stones scattered about.
The Medieval Reading walk was also in May, when we met at Reading Museum for an urban tour by Matthew Williams of the museum. Exploring the town we went inside the Abbey's inner gateway building at Forbury Gardens, followed by the extensive Reading Abbey ruins. Here we had special access just prior to the site's re-opening to the public after a programme of conservation.
In contrast, June's walk was up on the Lambourn Downs in Berkshire, with Eloise Kane and Katy Whitaker. This was a walk taking in the archaeology of Ashdown Park and the environs of the house, the downs and a climb to Weathercock Hill, with its magnificent views.
While June was hot, it was decidedly cool, with sub-zero temperatures for October's walk. Sunny and dry, though.  Julian Richards led us over Whiteheet Hill, on the chalk downs overlooking Stourhead near Mere, Wiltshire. All within a relatively small area, we explored the earthworks of a causewayed enclosure, round barrows, cross-dykes, hillfort, and more. It was memorable and exhilarating for those well wrapped up, and a grand way to finish our last walk of the year.
___________________________________________________________________________________
We believe that good communication with our membership is essential.  In addition to our twice a year printed newsletter we regularly send our eNews to all members who have signed up to receive these monthly news flashes by email.
Emailed to members every month, concerning archaeology throughout Wessex (and often beyond), CBA Wessex eNEWS is the way to stay informed with friendly reminders of forthcoming events such as study days, walks, outings and lectures, as well as receiving those useful snippets of news you might otherwise miss.
Enjoy reading previous editions of CBA Wessex eNEWS here – just click on the links below…
If you have an item to contribute to CBA Wessex eNEWS we would love to hear from you.  You can reach us by contacting our eNEWS team !
For up to the minute news on archaeology happening around the region follow CBA Wessex on Facebook, – simply send us a request and we'll ensure you become a friend of CBA Wessex Facebook Group.
——————————————————————————————————————————–
BRIEF FLAVOURS OF CBA WESSEX…
16th October 2016:   Thanks to Dave Allen (Hampshire Cultural Trust and our Hants Rep) and Chris Elmer (our Secretary) for leading a great walk around the Silchester Roman town walls and amphitheatre.
Excellent morning had by all; despite the threat of rain, the clouds cleared away and pleasant sunshine broke through to warm us all.  Thanks to all our members who travelled far and wide to be here.
Dave Allen and CBA Wessex members pause for reflection at the north gate.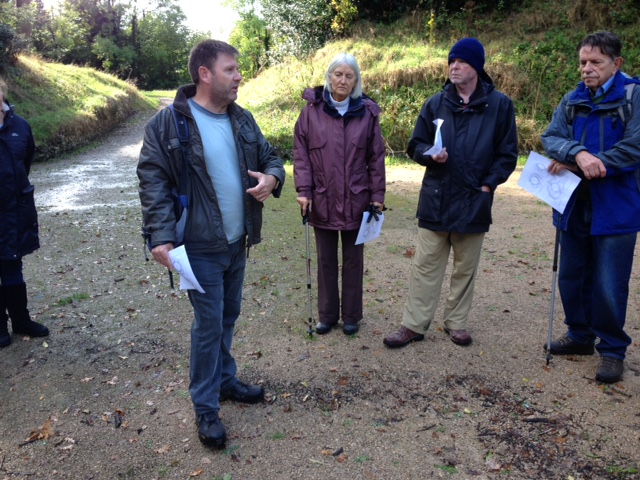 ________________________________________________________________________________________________
4th October 2015:  Thanks to Maddy Andrews for leading an excellent walk around the Rockbourne landscape in west Hampshire:
Excellent views of the prehistoric and Roman landscape. Good time had by all. Watch this space for more walks next spring…
________________________________________________________________________________________________
11th July 2015:  CBA Wessex visits excavations at Marden and Wilsford henges:  Amazing turnout today of around 50 visitors from CBA Wessex at the University of Reading Field School excavations at Marden and Wilsford Henges. Huge thank you to Jim Leary and the team for showing us around 🙂
________________________________________________________________________________________________
5th, 6th, 7th June 2015:  An excellent CBA Wessex weekend spent at Salisbury, Stonehenge and Avebury World
Heritage Site and the Salisbury Plain Training Area:  Thanks to everyone who made the weekend possible and especially to all our guests.  It was good to see our friends from other CBA Groups who headed south to join us… and the sun shone all weekend!  More pics on Facebook.
________________________________________________________________________________________________
10 May 2015:  Thanks to Katy Whitaker and Dan Miles for leading another excellent CBA Wessex walk:  Knap Hill – Adam's Grave – Milk Hill – Wansdyke – Eald Burgh – Knap Hill.  As Katy says 'everyone seemed to enjoy themselves and the grey clouds only threatened, we didn't get wet!'.
________________________________________________________________________________________________
26 April 2015:  Thank you to Peter Stanier for guiding us around the archaeology of Portland's quarries – another successful walk chalked up by CBA Wessex!